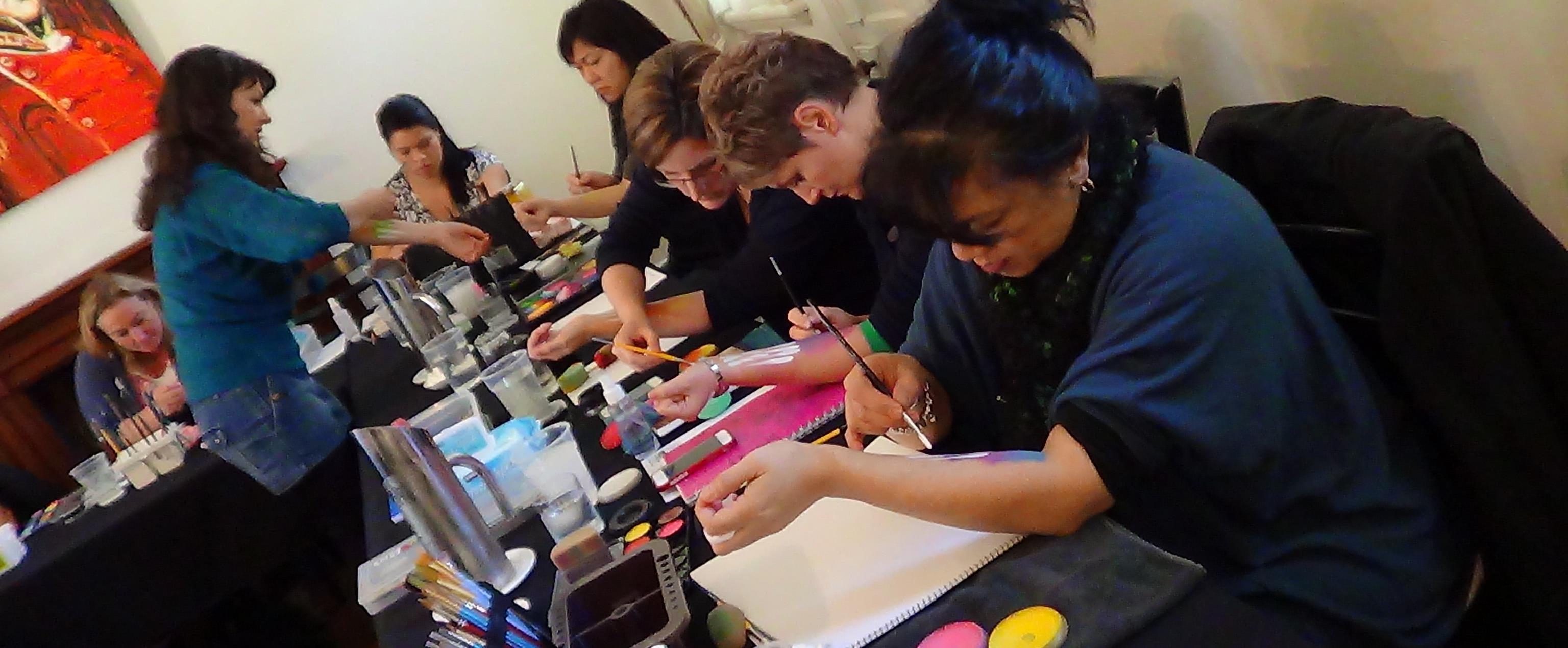 Discover the secrets of amazing face painting
with Olga Meleca
these workshops have now closed
ONE or TWO DAY Workshops in
SYDNEY | GOLD COAST (NEW LOCATION: MERMAID BEACH) | PERTH | MELBOURNE
Beautiful butterflies, super heroes, cute kitties, feminine flowers, pretty princesses and terrifying terminators. These are just some of the original, eye-catching and dynamic face paint designs you will discover under the guidance of our world-class face painting instructor Olga Meleca at our face painting workshops – coming to a city near you.*

Designed for people with some previous experience in face painting who wish to take their skills and designs to the next level, our one or two day face paint classes will especially benefit those who are already working in the industry and wishing to stand out from the crowd and impress their clients.
However, even if the only face painting experience you've had is face painting at a school fete or a friend's birthday party, you can think of this workshop as a crash course which will set you on the right path to a successful face painting career. One that is able to generate a great income if you are willing to work at it. Will it be challenging? Hell yes! But it's not rocket science. And when you apply the knowledge and experience you will gain from taking a face painting class with Olga Meleca and The Face Painting School, you will be on your way to creating beautiful and impressive face painting designs of your own.
A face painting class with the Face Painting School is not only informative and practical but a whole lot of fun too! This is your chance to learn the art of face painting from one of the world's best face painting instructors in a relaxed and cheerful environment. There are no tests or exams.

"The only face painter you should every compare yourself to is the one you were yesterday."
It's also a fantastic opportunity to network with other face painters in your area. Many long-lasting connections have been made at our face paint workshops.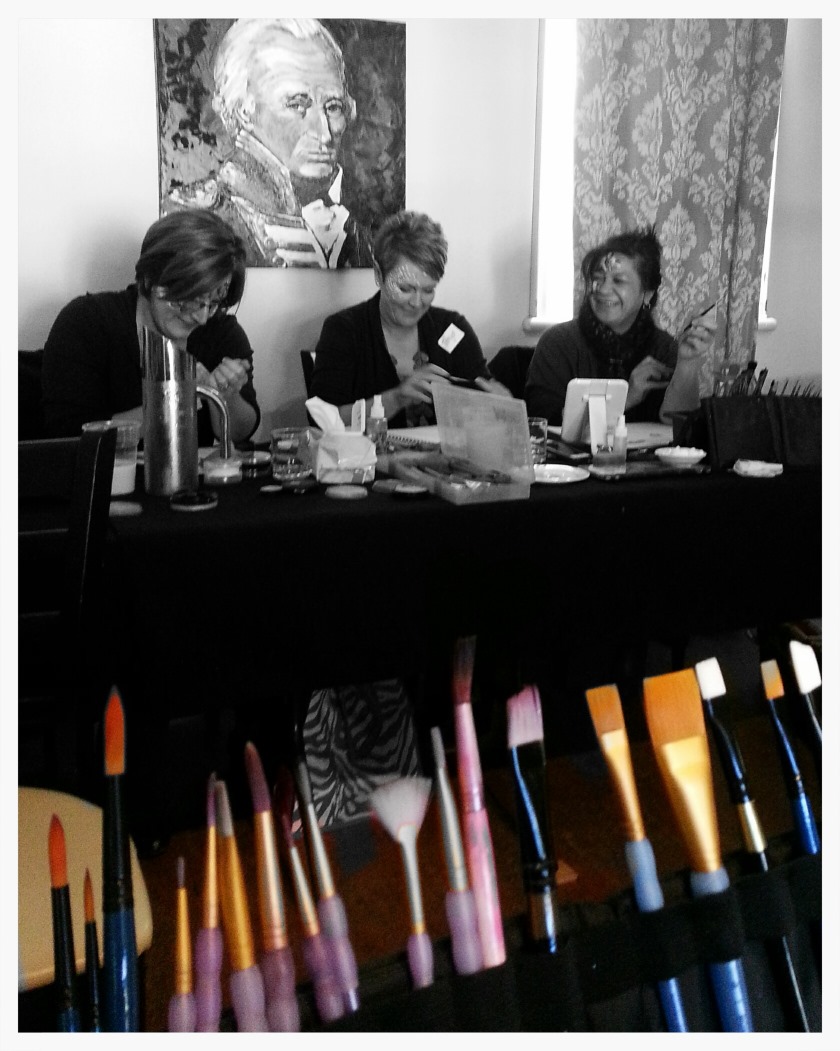 If you have problem areas or designs (who doesn't), then this is your chance to ask questions and discover the solution. Olga Meleca is an experienced instructor who has trained face painters of all levels in countries all over the world. She can give you valuable feedback –  something impossible to achieve from watching videos or following step-by-steps in books.
This workshop is for you…

If you have dabbled in face paint at home or as a volunteer and would like to start a rewarding business in face painting or party hosting, then this workshop will give you a great foundation;

If you are already working in the industry, then this workshop will expand your skills and portfolio to help you stand out from the crowd;

If you are a make up artist ready to try something different;

If you work in child-care;

If you offer face paint as a volunteer for fundraising;

If you provide make up for amateur theatre productions

What will these workshops cover?
Products and tools – what to use for the best results


Anatomy and structure of a great design

Demonstrations by Olga


Practical painting experience to develop techniques and designs

Q&A with the artist/instructor

Lesson notes provided by instructor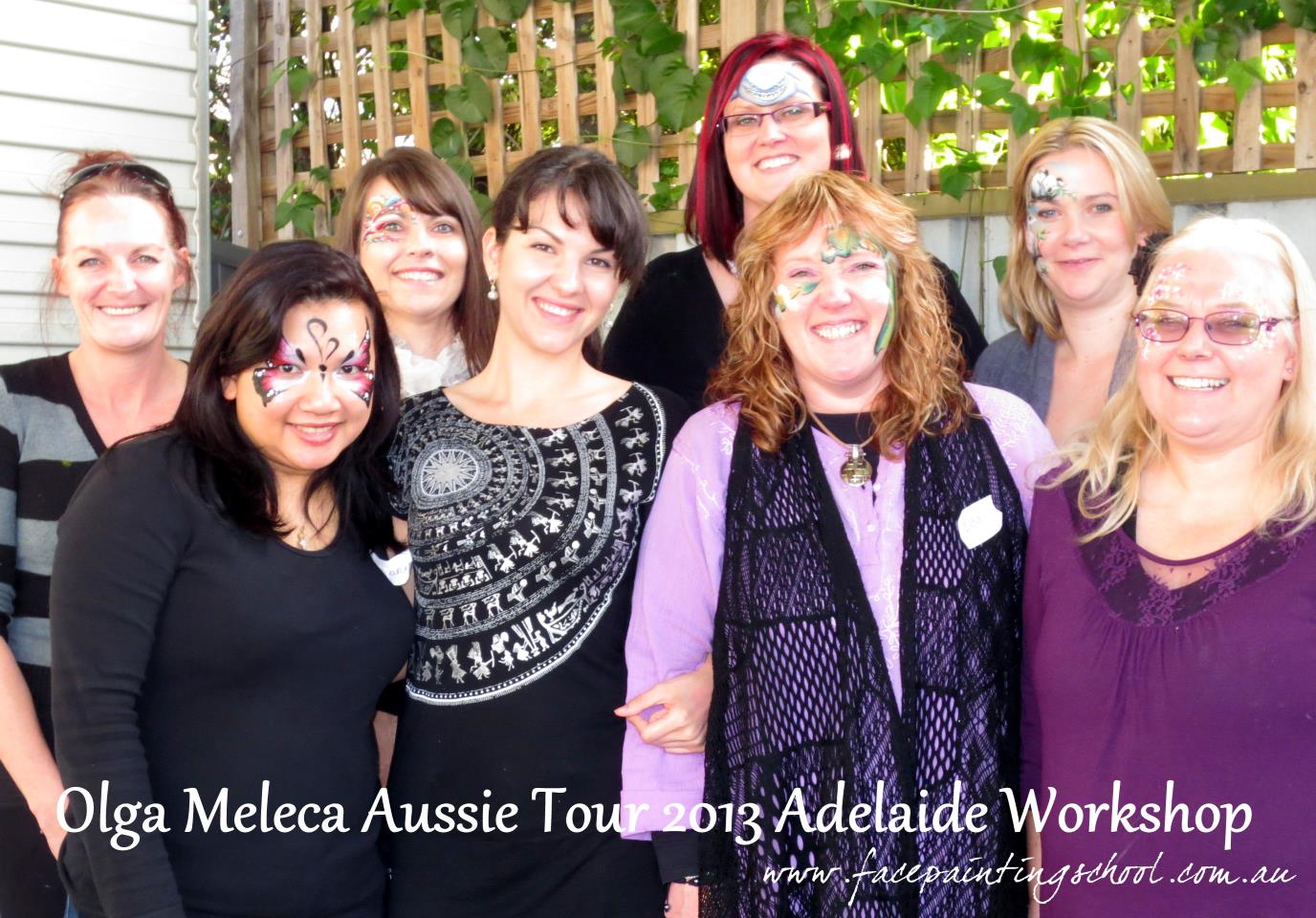 Are you ready to unlock the secrets of great face painting? 
Discover the Art of Amazing Face Painting with Olga Meleca and choose from either of our one day workshops or double the fun and enjoy two full days of face painting happiness for a discounted rate.

Day One: Face Painting Fun | 10 Popular Designs for Kids
Beautiful butterflies, super heroes, cute kitties, feminine flowers, pretty princesses and terrifying terminators. These are just some of the original, eye-catching and dynamic, popular 'on the job' designs you will learn from our special guest face painting instructor Olga Meleca at DAY ONE of our face painting workshops in Sydney.

This workshop will cover basic face painting techniques and the best way to structure your designs, as well as one stroke technqiues, line work and many of the most popular designs for girls and boys.

The one stroke technique has revolutionized face painting and the design possibilities are virtually endless. From pretty and feminine to sharp and sleek, one stroke is hands-down the fastest way to achieve great results and can be applied to a wide range designs for boys, girls, and adults. Discover how Olga Meleca creates her original one stroke face paint designs in this intensive but highly rewarding face paint workshop.
Some experience in face painting is an advantage but if you can tell one end of a brush from another and you enjoy a challenge then you will love this face painting workshop.
COST for one day: $250 (early bird ticket) or $275 (regular price)

Day Two: Face Painting Fun | WOW with Advanced Details
In this workshop: WOW with Advanced Details, Olga will cover advanced techniques like shading, blending, creating 3D effect and wow in details. Combine one stroke feathers with dream catchers, discover how to paint realistic stitches and gore, shift your sharks to amazing, leopards, ninja turtles, fairies, and unicorns.
This workshop is all about the little details that make a BIG difference. As always students are encouraged to paint along and practice the techniques and designs with Olga.
At the end of the workshop you will have many new designs to add to your portfolio.
The second workshop is designed for face painters with previous experience. We recommend anyone with limited experience to complete '10 Popular Designs for Kids' prior to taking this workshop.
COST for one day: $275

BOOK BOTH DAYS AND DOUBLE THE LEARNING,
DOUBLE THE FUN… & SAVE!
$395 for two days (yes, you can secure your seat with a deposit)

In Partnership with
http://www.facepaintshopaustralia.com
where all students of the Face Painting School receive a lifetime 10% discount
TESTIMONIALS
(from students of Olga's workshops, Australia 2013)

"Had the best couple of days at the Olga Meleca, workshop. there is something so special watching art come to life hoping I can remember everything, and put it all to good use Thank you Kate Matthews & Face Painting School for bringing Olga to Australia."
Lorraine Wegener
"Olga is a great teacher. Highly recommended. Thanks Kate Matthews for organizing this."
Sopana O'Neill

"It was such a pleasure to meet Olga Meleca. Thank you for your patience, you are a wonderful teacher, your designs and techniques are truly amazing and I look forward to seeing many more master pieces from you in the future"
Ann Lyon

"Trying out the new techniques I learnt from the very talented artist Olga Meleca and thanks to Kate Matthews for organising such great day!!! … Olga you make it look so easy….your really a great teacher !!"
Kelly Iacono

"Olga you were delightful and inspiring. Thank you for everything you taught us, it was indeed invaluable… I can't wait for next time."
Pamela Khoury

"Totally awesome designs, totally awesome talent…Come back soon!!"
Celie Chalker
"A biiiiiiig thank you to Kate Matthews for organising such a brilliant workshop with the wonderful Olga Meleca… it was great meeting you and all the other ladies…. I learned so much and I am already applying some of the techniques we learned in my work… olga is amazing and soooo talented. We hope she comes out to Australia more often and hopefully move here"
Naydeen Lewis

"A huge thank you to Olga for a fantastic course in Sydney! I learned so very much, you are an amazing artist!! Also to Kate for organising and making sure we all had a great experience, keep up the great work, both of you!! Looking forward to future courses! You guys rock!!!"